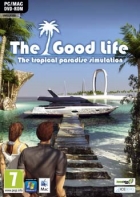 The Good Life is a open world simulation video game developed by ImmersionFX for digital download on the Mac OS and Microsoft Windows. Set in the stunning tropical environment, the game was released digitally and is the sequel to Days of Sail: Wind over Waters.
Derek Hales, fed up of the nine-to-five lifestyle, gets lucky when his late uncle makes him sole heir of "Carpe Diem Boats", a boating company on the tropical complex of the Jo Jo islands. Now with a boating company of his own, Derek and his girlfriend, Michelle Joyce, enjoy the beautiful sunrise.
The Good Life Brainwaves
26th February, 0 replies

Les jeux de simulation et de gestion sont toujours sont de plus en plus présents sur PC nous n'avons...
Share The Good Life with others