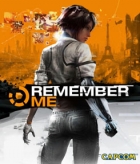 Remember Me (previously known as Adrift) is a cyberpunk third person action-adventure video game, developed by Dontnod Entertainment and published by Capcom. The game released on the PlayStation 3, Xbox 360 and PC on June 4, 2013.
In the future, memory manipulation and "augmented reality" have become commonplace. Memories are stored electronically and as an accepted price, they must be scanned and uploaded or downloaded. During this process, it's possible for others to see your memories and a Black Market for memories has formed. The protagonist, Nilin, was one of the best operatives at stealing hidden memories, but along the way somebody erased her own memory and now she's determined to figure out why.
Remember Me Brainwaves
11th August, 0 replies

Dontnod Entertainment, the studio behind last year's Remember Me, has announced its next game: Life is...

30th January, 0 replies

At the end of every month I wait patiently for the good men and women of SoA to tell me what games will...

30th January, 0 replies

So here is what you'll be getting for free with your subscription to Playstation Plus for the month of...
Share Remember Me with others