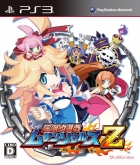 Mugen Souls Z is a role-playing game that was developed by Compile Heart, released exclusively for the Playstation 3. It is the second game in the Mugen Souls series of game, and plays very similar to its predecessor, although it makes some things simpler in the process.
Fresh off of conquering the seven worlds in the previous game, Chou-Chou, the last game's protagonist, has set her sights on some new targets, twelve worlds based on the zodiacs, who are ruled by one aspect of an ultimate god. However, she meets up with one of the gods, who has a coffin that drains all of Chou-Chou's powers, leaving her weak and having to team up with that ultimate god to help them reunite the twelve ultimate gods.
Mugen Souls Z Brainwaves
25th May, 0 replies

Compile Heart makes a lot of JRPGs that tend to fit into a niche crowd, such as Hyperdimension Neptunia...
Share Mugen Souls Z with others