Starbound is a sandbox, side-scrolling RPG where you have escaped your home planet and arrived on the land of Starbound. The game contains a lot of randomly procedurally created content for a ton of different possibilities.
Planet Generation
Planets will be procedurally generated for different experiences each time you play.
Everything from the terrain, weather, gravity level, difficulty level, inhabitants and more will be unique and each time the world is generated.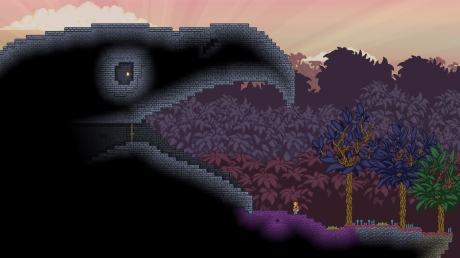 Additionally, you will also be able to claim a home world and allow you to change every aspect of it, from the weather to terraforming. Once you're happy you can populate it with characters you've met in your travels and take care of their needs and desires.
Dungeons
Each world will also generate crypts, caves and cash that you can find anywhere in the world. These dungeons will be full of monsters, but also full of precious loot.
Navigation
Travel is not limited to the one world. Through your ship's console, you can not only see the planet your on, but also the nearby planets. These can be traveled to for your choice of a new homeworld.
Navigation across the world you are on can be done on foot or through a land vehicle, called a Mech.
Quests and Missions
Unlike Terraria, which was a sandbox universe with no real story, Starbound will have story driven missions and unrelated quests. With infinite worlds, infinite adventures are possible!
Equipment & Classes
There will be a multitude of weapons, procedurally generated for massive variation. Vanity items, which can be worn over your equipment, maintain your equipment stats and character class.
Not much has been said about Classes at this time.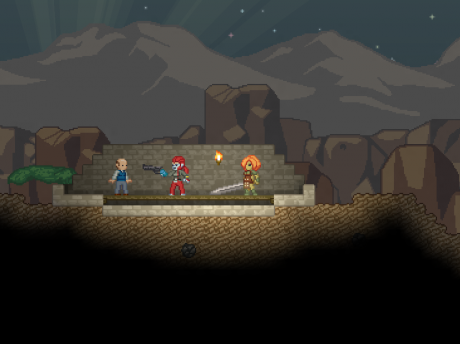 Building
Building is done with a Mining and Building Tool and is a big part of the game, but not much information has been released yet.
Crafting
Items will have blueprints that can be learned from NPCs or discovered in chests. Reverse engineering is available (though undetailed) and basic crafting can be done anywhere, but more complicated blueprints may require you to be in your ships manufacturing station.