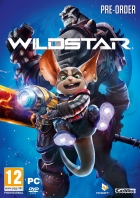 Wildstar is a Sci-Fi massively multiplayer online role-playing game (MMORPG) developed by Carbine Studios for Microsoft Windows. It's currently in the Beta stage with only a select group of players having access to it. The action takes place on a planet called Nexus, "one of the most mysterious and dangerous planets in the entire universe".
Wildstar is all about making your own unique story as you explore the lands of the Nexus, jump into dangerous adventures, and forge relationships with allies in a world. The content provided eliminates the need for a quest system and introduces the idea that you decide what to attack and whether it's worthy putting yourself in danger for some loot or not.
Wildstar Brainwaves
28th May, 1 replies

The MMO WildStar is going free-to-play this fall, NCSoft has announced. The decision to go free-to-play...

7th May, 0 replies

WildStar, the upcoming massively multiplayer online role-playing game, will enter a 10-day open beta...
Share Wildstar with others