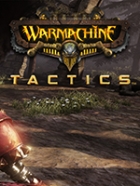 Warmachine: Tactics is a turn-based combat strategy game set in the world of the Warmachine table top game. It is developed and published by Privateer Press Interactive for Windows PC and Mac OS after successfully finding sufficient funding via Kickstarter.
Warmachine: Tactics Brainwaves
18th August, 1 replies

Last year saw the break-out of the Kickstarter-funded game, thanks in no small part to the immense popularity...
Share Warmachine: Tactics with others