Putty Squad, first released on the SNES, is a platformer that tasks you trying to rescue your putty friends, who have been imprisoned. Putty, the character you control, is able to stretch in all kinds of directions, giving him different abilities depending on which way he stretches. The HD remake, available on a number of platforms, offers better graphics, as well as unique features depending on the platform.
General Gameplay
The player must guide Putty through levels to rescue his imprisoned putty friends. Putty moves left and right and can jump as well as attack by punching. His attack can also be upgraded to electrifying prods and darts made of putty. He can also lie flat on the ground to avoid enemies altogether.
Putty can use his putty ability to stretch to platforms above and below him as well as reach items, which can be absorbed by him. Finally, Putty can inflate himself for a short time to float to otherwise unreachable areas.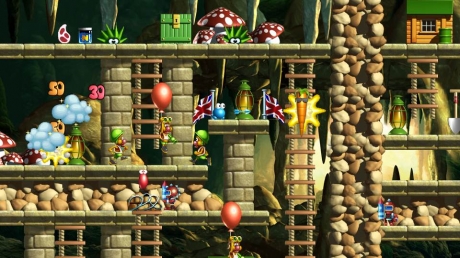 Game Modes
Each level is an open expanse that can be completed in any manner of ways with any manner of power ups as the player chooses. Putty has a few of these options at his choosing in order to perfect a level.
Challenge Mode
Bringing in an element of difficulty as well as level unlocks, Challenge mode puts you in charge of achieving the seven stars that can be achieved with each level. Upon choosing your level of choice, you're shown exactly what you have to do in order to achieve all stars.
Some of the challenges you can compete for would be such as timed levels, completing a level without eating health, or just managing to grab all the stars on the level before heading out the little green door.
Marathon Mode
Setting off on a string of levels, Putty moves from level to level in order to achieve his goal of finding his friends. Doing so during Marathon Mode is not exactly as it seems. Along the long string of levels that span before Putty, there is a limit on not only the power ups at his disposal, but also on his life.
Starting with four lives at the beginning of Marathon Mode, each life lost is reflected along the chain of levels from that level on. If a life is lost, Putty can go back and complete that level in hopes of grabbing back that life he has lost.
This makes perfection on each level a much needed requirement, achieving that perfection that each level requests so Putty can make it to the very last level and bring freedom to his friends.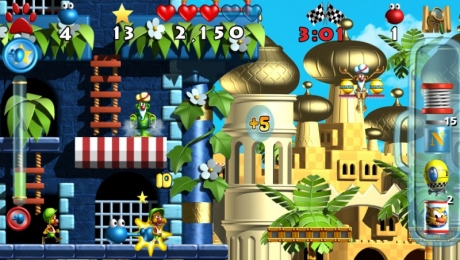 Vita-Only Features
The Vita version of Putty Squad has several unique features:
Downloadable Free Levels - Players will be able to access previously unavailable secret levels on the Vita version of the game. Nearly double the amount of levels are available via the Vita's location-based services. New levels will be released every two weeks.
Location-Based Services - Some levels and avatars will only be available by players taking their Vita to specific locations. Visiting a football stadium will unlock an appropriately attired avatar; taking the Vita to a Natural History Museum will unlock an ancient Inca level; visiting a Science Museum will open up an outer space level, etc.
Front and Rear Touch-Pad Support - Actions have been mapped to the Vita's front and rear touch-pads for the most natural gameplay experience. The rear touch-pad will be used for various actions such as inflating and floating, while the front touch-pad can be swiped to zoom-in for close-ups to aid with difficult platforming elements.
Other Vita features include a graphical overhaul to take advantage of the Vita's screen, new artwork, a game-share mode which allows limited multiplayer with just one copy of the game, and online leaderboards.