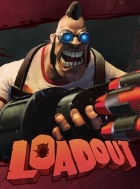 Loadout is a free-to-play third person shooter developed and published by Edge of Reality for Microsoft Windows and PlayStation 4.
Loadout is a free-to-play multiplayer shooter that's all about the guns and over-the-top cartoon-like gore. Players are able to build a massive variety of unique weaponry with billions of possible combinations.
Loadout Brainwaves
7th June, 2 replies

Loadout, the crazy and frantic free-to-play shooter from Edge of Reality that was released on the PC...
Share Loadout with others