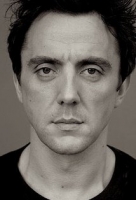 Peter Serafinowicz is a film, television and voice actor, and a comedy writer.
While his best known voice role was as Darth Maul in Star Wars Episode I, his dulcet tones can be heard in any number of other places including Archer, NTSF:SD:SUV, American Dad, South Park and more.
Latest Games
Developed by TT Fusion for 3DS, , PS4, WiiU, XOne

Lego City Undercover is a game developed by TT Fusion and released exculisvely on the Wii U on March 18th, 2013. The game takes place in Lego City. The main goal of the player is to complete 15 chapters of adventure and dicoveries, all leading down to one objective: Arrest the most-wanted criminal ever in Lego City. Rex Fury. A prequel is available for this game, made exclusively for the Nintendo 3DS, Lego City Undercover: The Chase Begins.
Peter Serafinowicz Brainwaves
Share Peter Serafinowicz with others