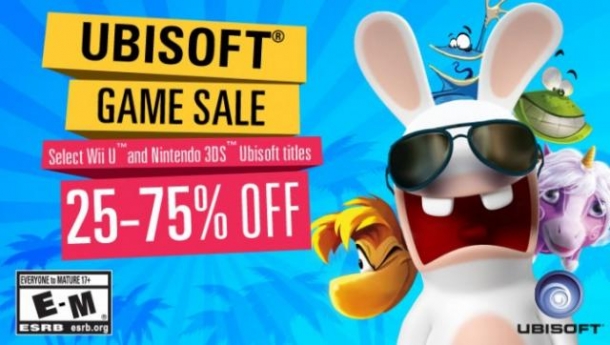 Ubisoft has discounted a wide range of its titles for the Nintendo 3DS and Wii U on the North American eShop.

These discounts vary from 25 percent off all the way up to 75 percent off. The sale ends on August 3rd at 11:59 AM EDT/8:59 AM PDT.

Wii U Games on Sale:

Assassin's Creed III – $14.99 (was $19.99)
Assassin's Creed IV: Black Flag – $14.99 (was $19.99)
Child of Light – $3.75 (was $14.99)
Cloudberry Kingdom – $2.49 (was $9.99)
ESPN Sports Connection – $12.49 (was $49.99)
Just Dance 2015 – $19.99 (was $39.99)
Marvel Avengers: Battle for Earth – $7.49 (was $29.99)
Rabbids Land – $12.49 (was $49.99)
Rayman Legends – $19.99 (was $39.99)
The Smurfs 2 – $14.99 (was $19.99)
Splinter Cell: Blacklist – $14.99 (was $19.99)
Watch Dogs – $22.49 (was $29.99)
Your Shape: Fitness Evolved 2013 – $12.49 (was $49.99)
ZombiU – $22.49 (was $29.99)

Nintendo 3DS Games on Sale:

Ghost Recon: Shadow Wars – $7.49 (was $29.99)
Petz Beach – $14.99 (was $19.99)
Petz Countryside – $14.99 (was $19.99)
Petz Fantasy 3D – $7.49 (was $29.99)
Poptropica: Forgotten Islands – $14.99 (was $19.99)
Rabbids Travel in Time 3D – $7.49 (was $29.99)
Rayman 3D – $7.49 (was $29.99)
Rayman Origins – $7.49 (was $29.99)
Splinter Cell 3D – $7.49 (was $29.99)
Tetris Ultimate – $14.99 (was $19.99)

Related Brainwaves
29th November

Sony recently announced lifetime shipment figures for the PlayStation 4 have surpassed 102.8 million units as of September 30, 2019. That puts shipment...

26th August

Despite the many post apocalyptic open-world games available today, I'm yet to play one inspired by kung-fu movies. Enter Experiment 101's Biomutant, a...
Trending Articles
30th October

Download Link: http://www.fileworld.info/outil-triche/telecharger-geometry-dash-outil-de-piratage-android-ios-comment-pirater-geometry-dash-triche/ Hello...

25th July

The next installment of the Super Smash Bros series is in development. Ever since a few days ago, people were excited to see it. Now, fans of the series...

6th January

When it comes to video games with deep stories, huge open worlds, and complex battle systems, nothing comes close to the RPG. Few genres are more diverse...

28th November

These are some tips and/or tricks that almost everyone can use for Glory of Generals. 1. Upgrade your Commander first. The Commander is very important...

21st January

As we promised during the weekend in the next weeks we will unveil Durango and Orbis. All the technical info you want to know about the next generation...