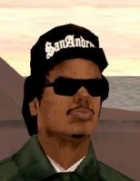 Lance "Ryder" Wilson is one of the major characters in Grand Theft Auto: San Andreas. He is a childhood friend of the Johnson family, as well as Big Smoke. He joined the Grove Street Families and eventually became a high ranking member when Carl Johnson left for Liberty City after the death of Brian Johnson.
It is revealed in the game that Ryder had been selling drugs since the age of ten. He is also usually seen with or looking for his "water," which is actually the drug PCP. He is also made fun of because of his short height, with people calling him midget.
Latest Games
Developed by Rockstar North for AND, iOS, MAC, WIN, PS2, PS3, , XB, X360

Grand Theft Auto: San Andreas is a sandbox action-adventure game developed by

Rockstar North

for the

PlayStation 2

,

Xbox

, and

PC

. It was released for the PS2 on October 26, 2004 for North America, October 29, 2004 for Europe and January 25, 2007 for Japan.