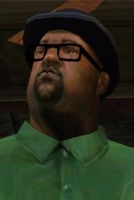 Melvin "Big Smoke" Harris is a major character from Grand Theft Auto: San Andreas. He was a childhood friend of the Johnson family, as well as Ryder, likely being born and living in Ganton, Los Santos, before moving to Idlewood. He was a high ranking member of the Grove Street Families gang, eventually becoming Sean Johnson's right-hand man.
Big Smoke tends to quote the Bible many times, indicating that he might possibly be a religious man. He also likes to eat, evident of the fact that he ordered a good portion of a fast food restaurant's menu during one of the early missions in the game. Smoke wants to be remembered after his death, which he makes multiple references to in the game.
Latest Games
Developed by Rockstar North for AND, iOS, MAC, WIN, PS2, PS3, , XB, X360

Grand Theft Auto: San Andreas is a sandbox action-adventure game developed by

Rockstar North

for the

PlayStation 2

,

Xbox

, and

PC

. It was released for the PS2 on October 26, 2004 for North America, October 29, 2004 for Europe and January 25, 2007 for Japan.
Share Big Smoke with others