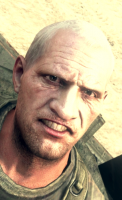 Lev Kravchenko is a character from the Call of Duty series, serving as an antagonist in both Call of Duty: Black Ops and Call of Duty: Black Ops II. He was a ruthless and aggressive, even going as far as possibly murdering his own sister, which is what was said to start his relationship with Nikita Dragovich. Kravchenko was completely loyal to Dragovich and helped with his plan to install sleeper agents in the US to one day release Nova 6, a deadly poisonous gas.
However, this plan was stopped, with Woods and Kravchenko presumably dying in Vietnam, but both ended up surviving. Kravchenko, now being without his superior and believing the USSR was dying, use this opportunity to sell weapons on the black market, with one of his clients being Raul Menendez. Woods, Mason, Hudson and Zhao go to Afghanistan, where they eventually encounter Kravchenko. He is captured by them and killed after being interrogated.
Latest Games
Developed by Certain Affinity, Treyarch for WIN, DS, PS3, Wii, X360

Call of Duty : Black Ops is a first person shooter developed by

Treyarch

, and published by

Activision

. The game was announced on April 30, 2010 and released on November 9, 2010 for Xbox 360, PS3, Wii and Microsoft Windows. There was also a separate version developed for the Nintendo DS which was developed by

n-Space

.
Lev Kravchenko Brainwaves
Share Lev Kravchenko with others