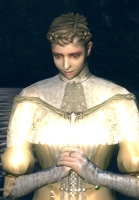 Dusk of Oolacile was a princess of Ooalcile when it was attacked by the Abyss and a magic trainer of sorcery in Dark Souls. She is found in Darkroot Basin, trapped inside a Golden Crystal Golem that only appears in the water after the Hydra is defeated.
When the ancient city of Oolacile awakened Manus, Father of the Abyss, at the urging of a Primordial Serpent, the Abyss spread across the land and destroyed the once beautiful city. Captured and imprisoned by Manus, Dusk remained in the Abyss until she was saved by whom she thought was the Knight Artorias, but was in fact the player. How she became encased in the Golden Crystal Golem is a mystery.
Latest Games
Developed by From Software for WIN, PS3, X360

Dark Souls is an open world action role-playing game, developed by

From Software

for the

PlayStation 3

,

Xbox 360

and

Microsoft Windows

. A spiritual successor to

Demon's Souls

, the game revolves around a dark-fantasy theme and sense of loss and caution. Like it's predecessor, Dark Souls is considered a challenging, yet rewarding, experience with players harshly punished for their mistakes.
Dusk of Oolacile Brainwaves
Share Dusk of Oolacile with others