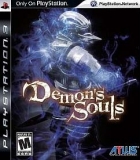 Demon's Souls is an action role-playing game developed by From Software exclusively for the PlayStation 3. It was published in Japan by Sony Computer Entertainment, in America by Atlus and in Europe by Namco Bandai Games.
Set in the dark fantasy world of Boletaria, Demon's Souls is renowned and infamous for its unforgiving difficulty level.
Demon's Souls Brainwaves
24th October, 0 replies

Today, players in North America, South America, and Europe will get their chance to enter the upcoming...

17th October, 0 replies

Though the beta just launched for some lucky PlayStation Plus members and Demon/Dark Souls lovers, Namco...

12th April, 0 replies

Screenshots and artwork galore, and even a lengthy gameplay trailer (courtesy of IGN) have all emerged...
Share Demon's Souls with others