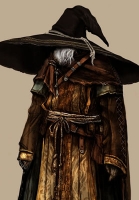 Big Hat Logan is the great sorcerer of the Vinheim Dragon School, Griggs of Vinheim's mentor, and a magic trainer of sorcery in Dark Souls. He is first encountered in Sen's Fortress, where he is imprisoned, and moves to Firelink Shrine once released. After purchasing all of his items, Logan moves to The Duke's Archives, where he sells new spells and eventually goes hollow.
Leaving the Dragon School to search for the Regal Archives, which houses the knowledge of the Father of Sorcery, his obsession with Seath's knowledge eventually leads to his downfall.
Latest Games
Developed by From Software for WIN, PS3, X360

Dark Souls is an open world action role-playing game, developed by

From Software

for the

PlayStation 3

,

Xbox 360

and

Microsoft Windows

. A spiritual successor to

Demon's Souls

, the game revolves around a dark-fantasy theme and sense of loss and caution. Like it's predecessor, Dark Souls is considered a challenging, yet rewarding, experience with players harshly punished for their mistakes.
Share Big Hat Logan with others