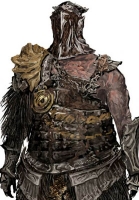 Hawkeye Gough is one of the Four Knights of Gwyn and leader of the Dragonslayers in Dark Souls. A bonus character that is only seen in the bonus content, DLC - Artorias of the Abyss, Gough is found in the upper section of the arena in which the player fights Artorias the Abysswalker, which requires the Crest Key found in the Oolacile Township.
Despite being blind, Gough is still an incredible shot with the able to shoot down the Black Dragon Kalameet in mid flight with his greatbow. Although he was once in contact with the Giant Blacksmith of Anor Londo, as his Hawk Ring appears nearby, their relationship and what became of Gough is unknown.
Latest Games
Developed by From Software for WIN, PS3, X360

Dark Souls is an open world action role-playing game, developed by

From Software

for the

PlayStation 3

,

Xbox 360

and

Microsoft Windows

. A spiritual successor to

Demon's Souls

, the game revolves around a dark-fantasy theme and sense of loss and caution. Like it's predecessor, Dark Souls is considered a challenging, yet rewarding, experience with players harshly punished for their mistakes.
Share Hawkeye Gough with others