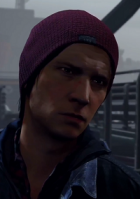 Delsin Rowe is the main protagonist of inFAMOUS: Second Son. He is 24 years old and part of the Akomish Native American tribe, although he tends to get in trouble with the law often, as his brother, the sheriff of the town, arrests him over and over. However, his world is flipped upside down when he discovers he's a Conduit, which happens upon touching another and acquiring his powers.
Delsin Rowe Brainwaves
10th June, 0 replies

Sony has announced a new standalone DLC for inFamous: Second Son called inFamous: First Light. The trailer...
Share Delsin Rowe with others