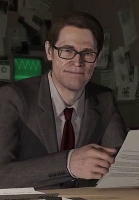 Nathan Dawkins is a character from Beyond: Two Souls.
Nathan is a scientist that works for the government and he's working with Jodie to try and analyze her powers.
Latest Games
Developed by Quantic Dream for PS3

Beyond: Two Souls is an interactive drama action-adventure game developed by

Quantic Dream

for the

PlayStation 3

. Like the previous game by Quantic Dream,

Heavy Rain

, Beyond: Two Souls focuses on an emotional narrative that the player invests in rather than fancy action sequences.
Nathan Dawkins Brainwaves
Share Nathan Dawkins with others