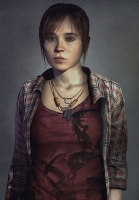 Jodie Holmes is the main character of Beyond: Two Souls, which follows 15 years of her life. She always has known that some kind of supernatural entity has been following her, and it is this entity, Aiden, that will help Jodie out in times of distress.
Latest Games
Developed by Quantic Dream for PS3

Beyond: Two Souls is an interactive drama action-adventure game developed by

Quantic Dream

for the

PlayStation 3

. Like the previous game by Quantic Dream,

Heavy Rain

, Beyond: Two Souls focuses on an emotional narrative that the player invests in rather than fancy action sequences.
Share Jodie Holmes with others