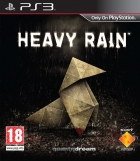 Heavy Rain is an adventure game written and developed by David Cage's development studio, Quantic Dream, and published by Sony exclusively for the PlayStation 3 in February, 2010.
It is an adult thriller which focusses on the affairs of four separate protagonists and their involvement in the case of the Origami Killer, a serial killer who drowns his victims in the rain.
Heavy Rain Brainwaves
8th July, 0 replies

According to two German retailer listings and a developer's portfolio, Beyond: Two Souls will be remastered...

17th February, 0 replies

French developer David Cage will be awarded France's highest honor, the Legion of Honour medal, on March...

29th September, 6 replies

In my time at Eurogamer Expo, I managed to get my hands on a pretty lengthy (40-minute long) demo of...
Share Heavy Rain with others