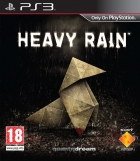 Heavy Rain is an adventure game written and developed by David Cage's development studio, Quantic Dream, and published by Sony exclusively for the PlayStation 3 in February, 2010.
It is an adult thriller which focusses on the affairs of four separate protagonists and their involvement in the case of the Origami Killer, a serial killer who drowns his victims in the rain.
Heavy Rain Brainwaves
11th October, 0 replies

Developer Dontnod's first outing, Remember Me, was an interesting, albeit rather mediocre action adventure...

1st October, 0 replies

It's not something that happens very often but there are times when bad games, even truly awful ones,...

8th July, 2 replies

According to two German retailer listings and a developer's portfolio, Beyond: Two Souls will be remastered...
Share Heavy Rain with others