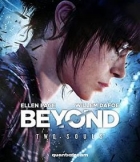 Beyond: Two Souls is an interactive drama action-adventure game developed by Quantic Dream for the PlayStation 3. Like the previous game by Quantic Dream, Heavy Rain, Beyond: Two Souls focuses on an emotional narrative that the player invests in rather than fancy action sequences.
The game follows Jodie Holmes through fifteen years of her life and explores her connection with the supernatural entity known as 'Aiden'. After being left by her foster parents she is brought up by researchers Nathan Dawkins and Cole Freeman, who conduct research on the infraworld for the fictional United States Department of Paranormal Activity, the DPA.
Beyond: Two Souls Brainwaves
6th January, 0 replies

Every year has its fair sure of critical darlings and indisputable duds, but the arguably most talked...

23rd October, 1 replies

Pokemon X & Y moved another 473,151 units in Japan, and was once again the reigning champion of the Media...

22nd October, 3 replies

Uh oh. Someone will burn for this one. Hackers have pulled the full code for the shower scene from the...
Share Beyond: Two Souls with others