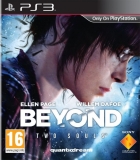 Beyond: Two Souls is an upcoming game devloped by Quantic Dream for the PlayStation 3, announced at E3 2012 during Sony's press conference. Well known actress Ellen Page was revealed to be playing the games protagonist, Jodie Holmes.
The game is set to follow Jodie Holmes through fifteen years of her life and explore her connection with the supernatural entity known as 'Aiden'. Both Jodie and Aiden have been confirmed as playable characters.
Beyond: Two Souls Brainwaves
23rd October, 0 replies

Pokemon X & Y moved another 473,151 units in Japan, and was once again the reigning champion of the Media...

22nd October, 2 replies

Uh oh. Someone will burn for this one. Hackers have pulled the full code for the shower scene from the...
Share Beyond: Two Souls with others