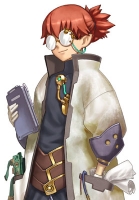 Katene is an old friend of Hikari Gojō and a brilliant Reyvateil researcher and inventor in Ar tonelico Qoga: Knell of Ar Ciel. He helps Aoto's group revive Tyria and recover the song for the Planet Regeneration Project.
As children, Katene and Mute's parents were researchers in the Archia Think Tank. Although on opposing research teams, their parents constantly discussed their opinions and ideas. Meanwhile, Mute and Katene were left in a special daycare inside the facilities of the Think Tank, where they became playmates.
Latest Games
Developed by Gust Co. Ltd. for PS3

Ar tonelico Qoga: Knell of Ar Ciel is a role-playing game developed by

Gust

for the

PlayStation 3

. It is the third and final installment in the

Ar Tonelico series

and takes place in the third tower of Ar Ciel, in the Reyvateil-ruled country of Clustania, located in an area known as Sol Cluster.