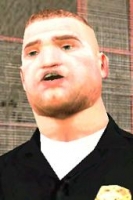 Eddie Pulaski is a character from Grand Theft Auto: San Andreas. He is Frank Tenpenny's partner in C.R.A.S.H., a unit designed to fight against the gangs in Los Santos. However, they are corrupt and use their power to do a lot of dirty work. He ends up getting killed by CJ in Bone County, with his last request being to sleep with CJ's sister, Kendl Johnson.
Latest Games
Developed by Rockstar North for AND, iOS, MAC, WIN, PS2, PS3, , XB, X360

Grand Theft Auto: San Andreas is a sandbox action-adventure game developed by

Rockstar North

for the

PlayStation 2

,

Xbox

, and

PC

. It was released for the PS2 on October 26, 2004 for North America, October 29, 2004 for Europe and January 25, 2007 for Japan.
Share Eddie Pulaski with others