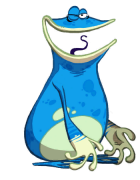 Globox is a large, blue, frog-like character from the Rayman series of games.
He has appeared in a number of Rayman games as a playable character and friend of Rayman, most notably in Rayman Origins and the upcoming Rayman Legends where he has a similar moveset to Rayman himself.
Globox Brainwaves
11th December, 1 replies

Ubisoft have confirmed a February 28th, 2014 release for Rayman Legends on the PlayStation 4 and Xbox...