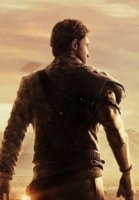 Mad Max Rockatansky is the protagonist of the Mad Max movie and video game series.
Also known as The Road Warrior, Mad Max is a Main Force Patrol (MFP) officer in the apocalyptic wastelands of Australia who becomes a disillusioned wanderer when his family is brutally murdered by outlaws.
'Mad' Max Rockatansky Brainwaves
25th April, 0 replies

Avalanche Studios have been busy as of late. Yesterday, they registered a website domain with Square...
Share 'Mad' Max Rockatansky with others