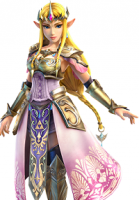 Zelda is a character in the Legend of Zelda series. She is a princess and member of Hyrule's royal family.
Although the series' eponymous character, she is not the player character in any of the games (that role is taken by Link), and instead plays the role of 'damsel in distress' in most of the games.
Zelda Brainwaves
6th November, 2 replies

During Nintendo's Direct Livestream event last night, Nintendo announced that the N64 Classic, The Legend...

14th October, 1 replies

Nintendo revealed the first trailer for The Legend of Zelda on Wii U, featuring Link riding a horse and...

14th October, 1 replies

Nintendo has announced the latest instalment of the Legend of Zelda franchise, coming 2015 for the Wii...