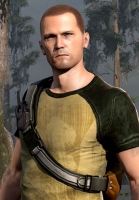 Cole MacGrath is the main protagonist of the inFAMOUS series of game, although the newest entry will have a new main character. He was a normal bike courier, until one day the package he was delivering exploded, killing countless humans and giving Cole electrokinetic powers. It turns out that he was chosen by Kessler to deliver the Ray Sphere, which is what exploded and gave him his powers.
Cole used these powers for good or evil, depending on the player's choice, in inFAMOUS, then once again in inFAMOUS 2. It was in the second game that he either gained the power of Pyrokinesis (control of fire) or Cryokinesis (control of ice). In the good ending of inFAMOUS 2, which is canon with the overall storyline, Cole died while fighting The Beast.
Cole MacGrath Brainwaves
9th August, 1 replies

The PlayStation All-Stars are back and this time, they're going mobile! Sony has announced PlayStation...
Share Cole MacGrath with others