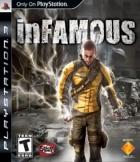 InFAMOUS is an action-adventure sandbox video game developed by Sucker Punch Productions for PlayStation 3. Though the game's story follows Cole using his new abilities to "restore" the order of Empire City, the player is given several opportunities to use these powers for good or evil through the game's Karma system.
Cole MacGrath is a bike messenger living in the fictional Empire City. When a package he is delivering suddenly explodes and sends the city into chao chaos, Cole finds that his survival of the explosion has left him with electricity-based super powers.
inFAMOUS Brainwaves
10th June, 0 replies

Sony has announced a new standalone DLC for inFamous: Second Son called inFamous: First Light. The trailer...

20th October, 1 replies

inFamous: Second Son continues the popular open world action-adventure series on the PlayStation 4 this...
Share inFAMOUS with others