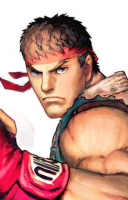 Ryu is a character and considered one of the main protagonists in the Street Fighter series of games. He was the adopted son of Gouken, who trained him in the ways of martial arts, along with Ken Masters, who would become his best friend and almost like a brother to him. He is usually silent and serious, as well as humble, taking his training very seriously. There is a dark side to Ryu, which is caused by his desire to improve himself and win at any cost, turning him into Evil Ryu (called Satsui no Hado); this is what overcame Ryu when he was fighting Sagat in the first World Warrior Tournament, causing the scar on his chest as Ryu hit him with a Metsu Shoryuken.
He has appeared in every single Street Fighter game, as well as every crossover game produced by Capcom. Ryu appears as a boss character in DLC for Asura's Wrath, as well as being a costume in Onimusha: Dawn of Dreams. Considering he is considered as one of Capcom's mascots, Ryu has made plenty of cameos in other forms of media.
Ryu (Street Fighter) Brainwaves
15th April, 1 replies

Reddit user shinyquagsire23 has decrypted the files in the most recent Super Smash Bros. for 3DS update...

19th June, 0 replies

28th January, 7 replies

Usual choices but mine is probably Solid Snake - he's just so damn cool and you can really feel like...
Share Ryu (Street Fighter) with others