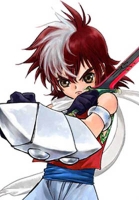 Caius is the main protagonist of Tales of Tempest. Caius is known for having the blood of both a Lycanthe and a human and early on in the story he is seen as a criminal and must go on the run to avoid them and so starts his journey. Caius uses a sword in battle and can also transform into a beast like creature later on in the story.
Latest Games
Developed by Alfa System for PSP

Tales of the World: Radiant Mythology 2 is a role-playing game developed by

Alfa System

and released on

PlayStation Portable

in 2009 for Japan only. Team up with various

Tales

characters from past games to defeat evil enemies.

Developed by Dimps Corporation for DS

Throughout Areura's history the Lycanth ruled over everything and would eventually establish a civilized civilization where all were treated fairly. Though their greed for advancement would eventually lead to their downfall as they found technology was too much for them and a huge number of their species where destroyed by them tampering with ancient technology. The humans would eventually come up to rule in their place. Far into the future this would lead to conflict.
Share Caius Qualls with others