The Disgaea series plays like a traditional grid-based tactical RPG, where the player can deploy up to 10 characters, humanoid and monster, to fight in battle. The player executes all actions in one go and is then proceeded by the enemy's phase. But unlike other tactical JRPGs, Disgaea sets its level cap at 9999 and allows the player to reach it multiple times. In addition, the player is able to level up items to further improve stat bonuses.
Central Hub
Each Disgaea game consists of a number of missions that the player undertakes from a central hub, which changes based on the game and setting.
The hub usually is used for managing equipment and party members members, using the Netherworld Hospital, and other functions that are usually game specific.
Hospitals
After every battle the characters keep whatever damage to HP and SP they sustained in battle. This means that if you wish to use them in battle again they need to recover from their last fight. To do this, head to a hospital and pay a certain amount of HL to recovery all characters.
Usually, each game rewards players for spending HL on healing HP, SP, or reviving.
Dark Congress/Assembly
Outside of battle, The Dark Congress/Assembly is where the player will spend most of your time. Here, they can create characters and petition for almost anything in the game, whether it is for enemies to be stronger or shops to list new or better items.
Based on the player's Demon Rank, which starts at 0 and can be increased by taking Promotional Exams (a set of battle exams), the player can choose to pass a bill by using Mana, which is earned by defeating enemies. In order to gain the approval of the court, the player can be bribe it's members or force them to bid in a favorable way.
Missions & Combat
Missions are usually arranged in a number of chapters with cutscenes before and after to advance the plot and at the players behest, with the ability to replay them for better rewards later.
Each mission requires the player to complete an objective, but all missions can be completed by defeating all enemies. All missions take place on an isometric grid-based field with spaces at various heights.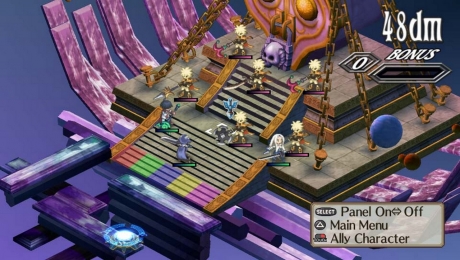 Each character summoned to battle can move and then perform an action, including melee attacks and special abilities. Once all characters have performed an action, the player's turn ends and the enemy turn begins.
When the player successfully completes a mission, they are given bonus items based on their overall bonus score, which is earned through combo attacks, special attacks, and other features of the game.
Lifting and Throwing
In Disgaea, character can lift and throw other characters and enemies. Lifting and throwing characters, as well as making a huge tower of characters to throw, is a great idea for getting slow characters in the midst of battle quickly. In order to perform a lift, a character needs to stand next to the desired target and hit "Lift". The target can then be thrown 3-6 spaces, depending on the thrower.
Geo Panels / Geo Symbols
This complicated system is usually overwhelming at first, but players will quickly get the hang of this feature.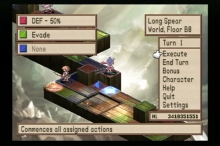 Geo Panels are designated by areas of colored panels on the floor. These tiles are controlled by a Geo Symbol, which is a block on one of the panels within the effected area.
Geo Symbols impose certain effects on all panels in the area of effect, some good, most of them bad. In order to get rid of the effect, you will need to destroy the Geo Symbol creating the effect, but there is an additional issues with this. If the color of the Geo Symbol is the same color as the floor, the effect will simply disappear. If you destroy a Geo Symbol on a floor that's a different color, the colored tiles will disappear and damage everything that's in the effected range. This can be great for damaging enemies, but can also damage your party. Note that you can pick up Geo Symbols and throw them to another area if desired.
Item World
The Item World is where players can increase an items stats by selecting it and entering the Item World.
The player can then descend randomly generated fields of battle, each level similar to one of the main missions, and improve the abilities of the item by freeing Guardians that live in the item.
Endings
Also, like other Japenese games, the Disgaea games feature multiple endings and can be played through multiple times with New Game+, which allows many of the completed games inventory and character stats to carry over into the next game.