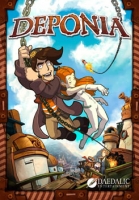 Deponia is an adventure point and click game developed by Daedalic Entertainment for Mac OS and Microsoft Windows.
The game follows Rufus, an ill-tempered man convinced of his own greatness who he lives at the edge of a small settlement somewhere in the most remote sector of the garbage-covered planet Deponia. Dreaming of a better life in the floating cities of wealth and beauty high above, he is caught offguard when the angelic Goal falls from above and learns that he is a dead ringer for Goal's upper-class husband.
Deponia Brainwaves
26th August, 0 replies

A new week is upon us once again, so of course that means a new This Week on Steam! Here's the best of...
Share Deponia with others