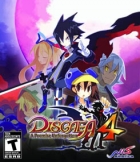 Disgaea 4: A Promise Unforgotten is a tactical RPG and the fourth installment of the Disgaea series by Nippon Ichi Software. Using turned based combat and the isometric battlefield gameplay from the previous installments, Disgaea 4 includes new features, such as the Magichange system.
The game follows Valvatorez, a vampire who was once feared as a tyrant until he promised a woman 400 years ago he'd not drink blood again until he could instil fear in her. Unfortunately, she died before he could do so. Disgusted by the corruption of the government and tired of his menial job of turning dead humans into Prinnies, Valvatorez, alongside his loyal servant Fenrich, plot a rebellion and battle across the Netherworld to win the support of the masses.
Disgaea 4: A Promise Unforgotten Brainwaves
15th May, 1 replies

Strategy RPG fans in Europe will be getting an early Christmas present in July, as NIS America has announced...

8th January, 0 replies

In 2014, as much as in past years, there were a number of games that simply weren't get noticed by...

25th July, 1 replies

NISA have been on a porting spree for the Disgaea series, so whenever one comes out on console you can...
Share Disgaea 4: A Promise Unforgotten with others
Disgaea 4: A Promise Unforgotten