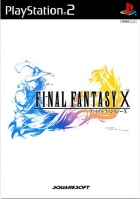 Final Fantasy X is a role-playing game that was developed and published worldwide by SquareSoft. It was initially released for the Playstation 2 in Japan and North America in 2001, with a release in Europe in 2002. On September 14, 2011, Square Enix announced that a remastered HD version of the game is under development for the PlayStation 3 and the PlayStation Vita, alongside its sequel, Final Fantasy X-2.
Final Fantasy X Brainwaves
15th October, 0 replies

It exists. I played it. After endless months of speculation I can confirm that Final Fantasy X/X-2 HD...

11th October, 0 replies

Final Fantasy X and X-2 HD has finally gotten a release date, in Japan. At this time there is no date...

9th July, 0 replies

Sony has announced a special Limited Art Book Edition of the upcoming Final Fantasy X and X-2 HD remakes....
Share Final Fantasy X with others