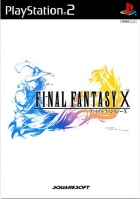 Final Fantasy X is a role-playing game that was developed and published worldwide by SquareSoft. It was initially released for the Playstation 2 in Japan and North America in 2001, with a release in Europe in 2002. On September 14, 2011, Square Enix announced that a remastered HD version of the game is under development for the PlayStation 3 and the PlayStation Vita, alongside its sequel, Final Fantasy X-2.
Final Fantasy X Brainwaves
20th May, 1 replies

Final Fantasy X | X-2 HD Remaster (PS4) was the top selling game in Japan for the week ending May 17,...

11th May, 0 replies

Sony has announced all of the games that will be releasing this week on the PlayStation 4, PlayStation...

7th January, 0 replies

The sales figures are out for the last week of 2013 and they seem to say that Japanese gamers prefer...
Share Final Fantasy X with others