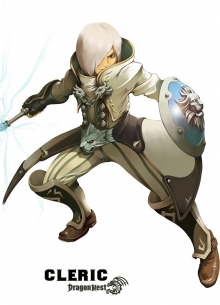 The Cleric is a tough, armored fighter with the ability to both heal and buff friends. He does less damage than most other classes, but his support abilities more than make up for it, making the Cleric a welcome friend in any party.
Character
The goddess decrees that evil must be exterminated, and this the Cleric does without question. He does whatever is necessary to further the cause of righteousness. Through his every act of holy violence, he sheds the hypocrisy of his past and family—his untrue father, his cruel stepmother, and his heritage as the bastard son of a line of impoverished noblemen—for the Cleric believes that good can only be born out of bloodshed.
Combat Style
The Cleric's focuses on close ranged combat. While he may be physically weak, he makes it for it by specializing in soaking damage while supporting his allies. He has access to the Mace, Flail, Wand.
Class Development
Upon reaching level 15, the Cleric must advance into one of two classes; the Paladin or Priest
Job Change
Paladin
The Paladin's main role is a tank. They have high defense and health and their skills focus on protection. However, their greatest weakness are their long cooldown times of their skills and low mana. They have access to Maces and Flails. Upon Reaching level 45, they can choose between the Crusader or the Gaurdian class which gives him either more damage or more defense.
Priest
The Priest's main role is supporting his allies with his AoE skills. They can neutralize threats with their stuns while also supporting their allies with their buffs and heals. Upon reaching level 45 the Priest can turn Inquisitor or Saint. The Inquisitor focuses on damage while the Saint focuses on support.