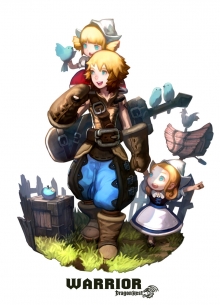 As a Warrior you will battle foes in fast-paced close-ranged melee combat. Quick and agile, you will rely on melee combos to triumph over your foes.
Character
At heart, the Warrior is an optimist. He believes in keeping his weapons sharp and his wits sharper. Fond of crude jokes, he sometimes comes across as an uncultured brute, but in battle, he's clever and precise, relying on both raw strength and quick combos to gain the upper hand. Such an attitude is surprising considering his upbringing. His mother was killed by monsters, and his drill sergeant of a father walked out on him—but that hasn't dampened his spirit. He's now on a quest to uncover the truth of his birth and lineage, but he's going to find much more than he bargained for.
Combat Style
The Warrior focuses on melee combat. He has access to Great Swords, Axes, and Hammers. His strongest trait is his ability to deal massive amounts of damage through his quick use of his weapons. The Warrior is also very agile and can string large combos together.
Class Development
Upon reaching level 15, the warrior gains access to their first class change. The Mercenary, or the Swordsman.
Job Change
Swordsman
The Swordsman's greatest strength is in how agile and versatile he is. He has access to both ranged and ranged abilities though he weilds a sword. He can string together large combos and has access to many gap-closer skills. The Swordsman has to be one of the most balanced classes in Dragon Nest.
Mercenary
The Mercenary is a Bruiser Class. He can dish out damage and absorb the damage inflicted by his enemies. They have access to Axes and Hammers and use them to inflict massive AoE [Area of Effect] damage. Upon reaching the specified level, the Mercencary can choose between the Destroyer or the Galdiator class, each with their own unique traits.