Dragon Nest is a free-to-play action MMORPG that unlike many role-playing games uses a non-targeting combat system that ensures players have complete control over action and character movement.
Players must explore and conquer the many dungeons in order to complete quests, gain more equipment, and skills in order to advance.
Creating a Character
When players first start the game and choose their server, they must choose a class and then customize their characters.
Classes
- (cover the "basics" classes and how they can be expanded later)
As players level and advance, when they reach level 15, they must choose their advanced class. These classes will open up new items available to the player and will give access to even more skills. However once the player chooses their class, they will not be able to change it.
Character Customization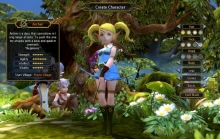 The player can change their character's appearance when choosing their character and can change it again in-game, however at a price.
- (cover what you can edit, how in depth it is, etc).
Dungeons
The dungeons is the core aspect of the game. Players will Always find themselves in dungeons in order to finish Quests, unlocking various items, and a higher difficulty. The higher level the dungeon, the better the rewards.
- (expand)
Quests
Story Quests, Side Quests, etc. Players must complete a series of tasks in order to progress in the story, unlocking more areas to explore, and new items. When the player reaches a specific point in the game, Large Scale Dungeons are then unlocked, If finished, they will unlock epic rewards
- (expand)
Player vs. Player
Players are given the choice to duel at anytime, but in official matches players can fight in 3v3, 5v5, Guild Wars, or even Free-for-All. In these matches the goal is to kill all the hostile players, with the winner being the one who kills the most enemies or the last one standing.
Domination
In this mode, each team must secure the indicated bases in order to win. Players must fight each other for control over these bases. When a base is captured, these bases generate points over time and the first to the indicated points win.
In Domination, some powerups appear overtime and each ones give players various buffs. Strength buff, Speed, or Invisibility. These items along with the bases add more variety and more strategy to the standard PvP matches.
Ghoul Mode
In Ghoul Mode, a few selected players are transformed into varying ghouls. Each ghoul's items and skills are replaced, temporarily, with new items and skills. The ghoul's goal is to wipe out all the humans. The Humans must band together in order to combat these ghouls. If the humans can delay the ghouls for 10 minutes, they will win.
Wipe Out
This mode is similar to dueling because a player is selected in each team to go up against each other in a 1v1 match. The winner is determined by the remaining %hp. The team with the remaining players are determined the winner.