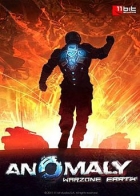 Anomaly: Warzone Earth is a reverse tower defense strategy game developed by 11 bit Studios for Microsoft Windows, Mac OS, Linux, iOS, Android, PlayStation 3, and Xbox 360. An extraordinary mixture of action and strategy, the game tasks players with saving a near-future Earth from an alien onslaught.
The invaders have captured world's major cities, building huge turrets that destroy everything in their path. It's up to you to lead an armored squad through the streets of cities like Baghdad and Tokyo, planning the route and strategically choosing which units to deploy in order to crush the opposition.
Anomaly: Warzone Earth Brainwaves
27th August, 0 replies

Anomaly 2 has already proven itself a successful sequel with its release on iOS, PC, Mac and Linux. Now...

24th February, 0 replies

As is always the case, the past 12 months in the world of gaming have been quite spectacular. There have...
Share Anomaly: Warzone Earth with others