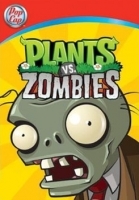 Plants vs. Zombies is a strategic tower defense game developed by PopCap Games for the Android, iOS, Mac OS, Microsoft Windows, Nintendo DS, DSiWare, PlayStation 3, PlayStation Vita, Xbox 360, and Windows Phone. The game involves a homeowner using many varieties of plants to repel an army of zombies from "eating their brains".
Players place different types of plants, each with their own unique offensive or defensive capabilities, around a house in order to stop a horde of zombies from eating the brains of the residents.
Plants vs. Zombies Brainwaves
24th October, 1 replies

EA and PopCap's free-to-play tower defense game, Plants vs Zombies 2, has arrived on Android platforms...

31st May, 0 replies

How do you fancy Plants Vs Zombies 2 having some sort of Mass Effect tie-in, or maybe a Dead Space one? Well,...

6th May, 0 replies

Plants vs. Zombies 2. It's about time. It looks like Popcap finally ran out of new platforms to port...
Share Plants vs. Zombies with others