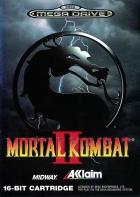 Mortal Kombat II is a fighting game developed by Midway, Probe Entertainment, Sculptured Software and released on Arcade, Game Boy, GameGear, Microsoft Windows, PlayStation, PlayStation 3, Sega Master System, Sega Saturn, Super Nintendo Entertainment System.
Mortal Kombat II Brainwaves
6th August, 0 replies

"MK fans, GET OVER HERE!" The latest entry in the Mortal Kombat franchise for the PC hit retail stores...
Share Mortal Kombat II with others