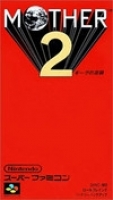 Earthbound is a Japanese RPG in which you play a young boy named Ness in a modern setting. As Ness, you'll gather other young adventurers and set out on a quest to save the world from an evil alien named Giygas. Along the way, Ness and friends discover their abilities to utilize psychic powers to battle monsters and people corrupted by Giygas' influence.
EarthBound Brainwaves
5th June, 0 replies

Lucas from the Mother/Earthbound franchise will be joining Super Smash Bros. for 3DS and Wii U on June...

19th July, 0 replies

In a surprise move, Nintendo have decided today was the best day to release the classic RPG Earthbound...

21st April, 0 replies

After news this week broke that Nintendo will bring EarthBound to the Wii U Virtual Console in the west...
Share EarthBound with others