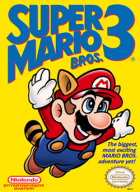 Super Mario Bros. 3 is a side-scrolling platformer that was developed and published by Nintendo, initially for the Nintendo Entertainment System. It is the third numbered entry in the Super Mario franchise and is one of the best-selling video games of all time, becoming the second highest selling game on the NES.
Bowser returns to Mushroom Kingdom and with the help of his seven Koopalings, he has turned all of the kings into creatures. Princess Peach, who ends up getting kidnapped by Bowser, sends Mario and Luigi to rescue each King and return them back to normal, using the wands stolen by the Koopalings.
Super Mario Bros. 3 Brainwaves
26th May, 0 replies

Nintendo has released its latest list of the top selling 3DS eShop titles (week ending May 25). The free-to-play...
Share Super Mario Bros. 3 with others