The Fountain is the second set galaxy that can be unlocked after completed the first set. The decor focuses on fountain.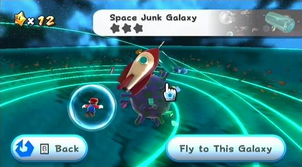 Space Junk Galaxy
Space Junk Galaxy is the first galaxy encountered in the Fountain, and as the name implies it revolves around Space Junk floating in space. It showcases two bosses Tarantox and Kamella.
Levels for Space Junk Galaxy:
Pull Star Path
Kamella's Airship Attack
Tarantox's Tangled Web
Pull Star Path Speed Run
Purple Coin Spacewalk
Yoshi's Unexpected Appearance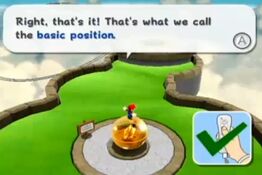 Rolling Green Galaxy
Rolling Green Galaxy is a galaxy revolved around a minigame found in Mario Galaxy called Star Ball Rolling. It is played similar to a golf course, and can actually be temperamental to some individuals.
Level for Rolling Green Galaxy:
Rolling in the Clouds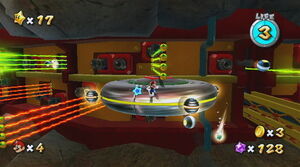 Battlerock Galaxy
Battle Rock Galaxy is a galaxy that revolves flying saucers and planets with cannons on them. This level showcases a boss called Topmaniac.
Level for Battlerock Galaxy:
Battlerock Barrage
Breaking into the Battlerock
Topmaniac and the Topman Tribe
Battlerock's Garbage Dump
Topmaniac's Daredevil Run
Purple Coins on the Battlerock
Luigi under the Saucer
Hurry-Scurry Galaxy
Hurry-Scurry Galaxy is a galaxy that revolves on Shrinking Tiles, and the goal is to beat the level quickly.
Level for The Hurry-Scurry:
Rolling in the Clouds
Bowser's Star Reactor
Bowser's Star Reactor is the first time Mario fight Bowser. It is a nostalgic level.
Level for Bowser's Star Reactor:
The Fiery Stronghold
Sling Pod Galaxy (Hungry Luma)
This is unlocked after Luma is fed 400 Star Bits. The Sling Pod Galaxy is a galaxy that revolves around Sling Pods and mainly the pointing features of the motion control in the game.
Level for Sling Pod Galaxy:
A Very Sticky Situation