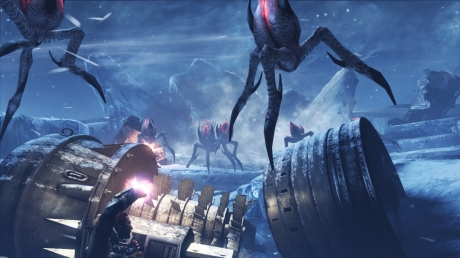 Lost Planet 3's core third person shooter gameplay (mixed with first person mech gameplay) will most closely resemble that of the first game, Lost Planet: Extreme Condition, and its story-driven campaign, in contrast with Lost Planet 2's focus on lengthy boss encounters and cooperative gameplay.
The main antagonists in this entry are the Akrid (the name of indigenous aliens on the planet, E.D.N. III).
Unlike either of its predecessors, Lost Planet 3 is set to feature a much more expansive world to explore, and will feature a number of open world environments, side quests, and non-player characters.
Missions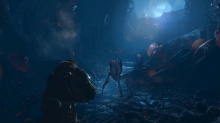 Lost Planet 3 introduces a broken down mission structure in which you can choose the accept missions that advance the story at your leisure. If you prefer, you can spend extra time exploring the surroundings or completing option side quests, such as helping out a fellow colonist with a minor task.
This makes Lost Planet a much more RPG-like experience. You can converse with NPCs, complete side quests, upgrade your equipment, and upgrade your mining rig. Or you can opt to openly explore the world of E.D.N. III.
The addition of more open world-lite exploration to the franchise also means the introduction of some light platforming mechanics.
Currency
Whereas before, thermal energy was an essential resource which kept the player character alive, in Lost Planet 3 thermal energy will act as the game's currency. With this currency players will be able to buy upgrades for their weapons and equipment, inducing their mining rigs.
Dynamic HUD
This entry in the series will also introduce a more dynamic HUD. Jim's life metre will be displayed on his back (much like it is in the Dead Space series), and other key pieces of information will be displayed in an equally subtle way.
Certain cut scenes will also be conducted while the player still has control of the character in-game, with conversations with NPCs taking place via video calls during gameplay.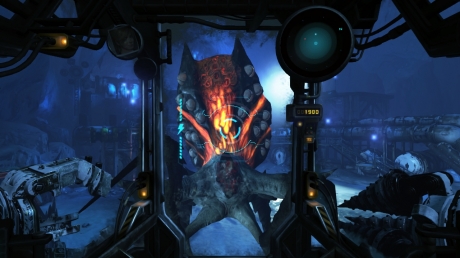 Mechs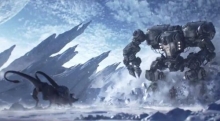 In Lost Planet 3, the mechs are not militarized. Because in this prequel the mechs found on the planet are being used to terraform the world and mine resources, the mechs you control will all be utility mechs; primarily fitted out to mine resources.
You will still pilot these mechs, however, and use them in combat with the hostile Akrids, but will have to make do with less conventional weapons, such as drill arms and claws.
These mechs (known as 'rigs' in the series) can be upgraded by the player purchasing upgrades with thermal energy, or even built by the player him/herself using items gathered over the course of the game.
Multiplayer
The game will also feature separate multiplayer modes. Players can team up with others to take on other gamers in competitive player vs. player arenas, or they can team up with one another to take on massive boss creatures in cooperative scenarios.
Scenario Mode - Each team of five players is given a series of offensive or defensive challenges.
Akrid Survival - Two teams of three players compete independently in a series of encounters against waves of hostile Akrid before finally taking on each other in a PvP elimination round.
Extraction Mode - Two teams of five players must plant thermal posts and extract Thermal Energy from the ground. The team with the most energy collected wins.
Team Deathmatch - Two teams of two five players compete for the highest number of kills in a set period of time.
For more detailed information, see the Multiplayer section.