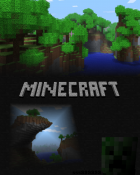 MineCraft is a sandbox-building video game originally by created by Swedish creator Markus "Notch" Persson and now by his company, Mojang. The game was originally released on May 17th 2009 on Microsoft Windows as a development alpha version but has since been ported to OSX, iOS, Android, Xbox 360, Xbox One, the PlayStation 3, and the PlayStation 4.
The creative and building aspects of Minecraft allow players to build constructions out of textured cubes in a 3D procedurally generated world. Other activities in the game include exploration, gathering resources, crafting, and combat. Gameplay in its commercial release has three principal modes: survival, which requires players to acquire resources and maintain their health and hunger; and creative, where players have an unlimited supply of resources, the ability to fly, and no health or hunger.
Minecraft Brainwaves
1st June, 2 replies

Warner Bros. Interactive Entertainment has taken a page out of Minecraft's book and has released a brand...
Share Minecraft with others