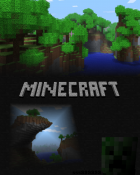 MineCraft is a sandbox-building video game originally by created by Swedish creator Markus "Notch" Persson and now by his company, Mojang. The game was originally released on May 17th 2009 on Microsoft Windows as a development alpha version but has since been ported to OSX, iOS, Android, Xbox 360, Xbox One, the PlayStation 3, and the PlayStation 4.
The creative and building aspects of Minecraft allow players to build constructions out of textured cubes in a 3D procedurally generated world. Other activities in the game include exploration, gathering resources, crafting, and combat. Gameplay in its commercial release has three principal modes: survival, which requires players to acquire resources and maintain their health and hunger; and creative, where players have an unlimited supply of resources, the ability to fly, and no health or hunger.
Minecraft Brainwaves
5 days ago, 0 replies

Final Fantasy X | X-2 HD Remaster (PS4) was the top selling game in Japan for the week ending May 17,...

6 days ago, 0 replies

Minecraft continues to dominate gaming on YouTube in terms of views, according to a report released by...

11 days ago, 0 replies

YouTube has released a top ten most popular games of all time in celebration of its tenth anniversary....
Share Minecraft with others