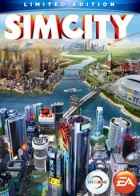 SimCity 2013 is a city simulation game developed by Maxis for Microsoft Windows and Mac OS X. Centred on the development and building of a city, it is the latest in the SimCity series. Gameplay is similar in style to its predecessors, with the placing of zones and their development being controlled by other structures built around it and the choices the player makes.
It is significant for using a new engine, Glassbox, and for the issues which occurred after its release, which involved the servers, particularly the North America ones, often down, slow or constantly crashing when the game required always online.
SimCity (2013) Brainwaves
20th March, 1 replies

SimCity's 'stumble', as PC Gamer diplomatically puts it in an interview with Cities: Skylines' Mariina...

14th March, 0 replies

EA and Maxis' simulation game SimCity suffered from a near-catastrophic launch last year. Players who...

4th July, 1 replies

If a recent survey from EA is to be believed, the newest edition of SimCity could be adding a "classic...
Share SimCity (2013) with others