Licensed LEGO titles, as well as some of the original ones, have a certain formula with them that has stayed true to form throughout many games, including LEGO Marvel Super Heroes. It is an action-adventure title that has an open world hub and individual levels that are linear. Throughout both scenarios, players can collect LEGO studs that can be used to unlock new characters and even in-game cheats, in the form of Red Bricks.
Characters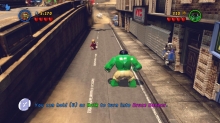 One of the highlights of any LEGO game is the ability to play as a large number of characters. These characters all have a unique power that is useful in unlocking areas or progressing through levels. Powers range from Iron Man being able to destroy silver objects, and Spider-Man able to uncover hidden objects using his Spider Sense.
Note that these characters are grouped together according to their powers, so someone like Spider-Man will be in the same group as Venom, who will be called web-slinging characters.
Game Modes
There are two basic game modes in LEGO games, including LEGO Marvel, which are Story Mode and Free Mode. Story Mode entails you playing through the levels, following a plot, where you are forced to play with specific characters.
Free Mode allows you to play through the same levels, but you are able to play using any of the characters you have unlocked. This allows you to unlock everything within a level, including the Collectibles hidden throughout the levels.
Collectibles
Hidden throughout levels and the game's hub will be collectibles that can be unlocked, which will open up purchaseable characters, as well as unlock other things. Each level also has ten Minikits hidden throughout, requiring Free Mode to find them all, which will unlock