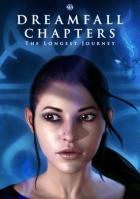 Dreamfall Chapters: The Longest Journey is the third game in the The Longest Journey franchise. This game takes place immediately after the end of Dreamfall: The Longest Journey where we find Zoë Castillo still in a coma and April Ryan is believed dead. It falls to Zoë again to discover the fate of the undreaming and save the world.
The game is currently in the process of collecting backers using Kickstarter. Packages range from a limited number of $20 digital editions of the game (first 5,000 backers) to options of up to $10,000. The goal is set for $850,000 before March 9, 2013 with a tentative release date of November 2014. The game is currently in production by Red Thread Games based in Norway and is comprised primarily of the original development team for the previous games in the series.
Dreamfall Chapters Brainwaves
23rd February, 0 replies

8th February, 2 replies

The sequel to Dreamfall: The Longest Journey has just been announced! Tentatively announced for November...
Share Dreamfall Chapters with others