The Basics
Call of Juarez: Gunslinger is the latest entry in the Call of Juarez series of Wild West first-person shooters. In story mode players take on the role of Silas Greaves, a cowboy drifter and bounty hunter as he tracks down and dispatches some of the most infamous criminals of the Old West era.
Setting
Gunslinger is sent in the Old West, and will feature the familiar stunning Western landscapes and ramshackle towns that have become synonymous with the period, from dusty townships to desert plains to lush forest land.
The game also features key figures from the Western are, including infamous outlaws like Billy the Kid, notorious gunslingers and uncompromising lawmen like Pat Garrett. The game's story mode promises to allow players to live out the untold stories behind these legends.
Modes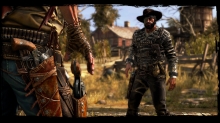 As mentioned above, Gunslinger features several different game modes. In total there are three: Story mode, Arcade mode and Duel mode. Arcade mode tasks players with achieving the highest score possible on level taken from Story mode.
Duel mode, meanwhile, brings back the classic pistol duels that both the Wild West era and the Call of Juarez series are known for.
Upgrades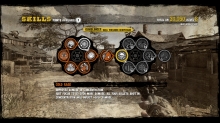 The game will feature an experience and upgrade system, most likely similar to that of the Dead Island franchise. Experience will allow you to level up, which in turn grants you the ability to place skill points in certain abilities of your own choosing, so you'll be able to choose the specific gun fighting skills you want to develop and acquire new shooting abilities as you progress through the game's story.
Concentration
The series' concentration mode system returns for Gunslinger. Concentration mode essentially allows you to slow down time so that you can line up a series of precision shots on enemies in the area.
Sense of Death
Sense of death is a new gameplay mechanic, debuting in Gunslinger. Sense of death allows you to dodge what would otherwise be a lethal bullet. The requirement for activating the ability are currently unknown, however.